Welcome to the official web site for bestselling author Tilda Shalof. Shalof is an experienced intensive care unit (ICU) nurse and has recounted in her books her experiences in the ICU, as a camp nurse, and most recently as a patient herself.
Tilda Shalof has been a caregiver all her life — at home for her family, at work for strangers — but her skills didn't come easily. From when she was a child taking care of her sick parents to her current position on an ICU team in one of Canada's largest hospitals, there have always been daunting challenges and worthy rewards for her work. With her trademark humour, unflinching honesty, and skilled storytelling, Tilda's books describe her experiences becoming the expert nurse she is today.
Tilda has extensive experience sharing her stories through her books and as a keynote speaker for a wide variety of conferences worldwide.
On this site you can learn more about Tilda's books, what people are saying about them, where Tilda is speaking and how to get in touch with her.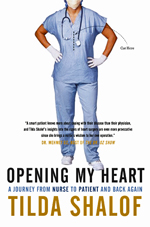 Opening My Heart
A Journey from Nurse to Patient and Back Again
In her new book, Tilda finds herself on the "other side" after undergoing open heart surgery. Her story takes readers through the diagnosis, her stay in the ICU, the cardiac ward, recovery at home, rehabilitation, and ultimately, her return to work in the hospital armed with new insights on the patient's perspective.
"A smart patient knows more about coping with their disease than their physician, and Tilda Shalof's insights into the rigors of heart surgery are even more provocative since she brings a nurse's wisdom to her own operation." –Dr. Mehmet Oz, Host of the The Dr. Oz Show